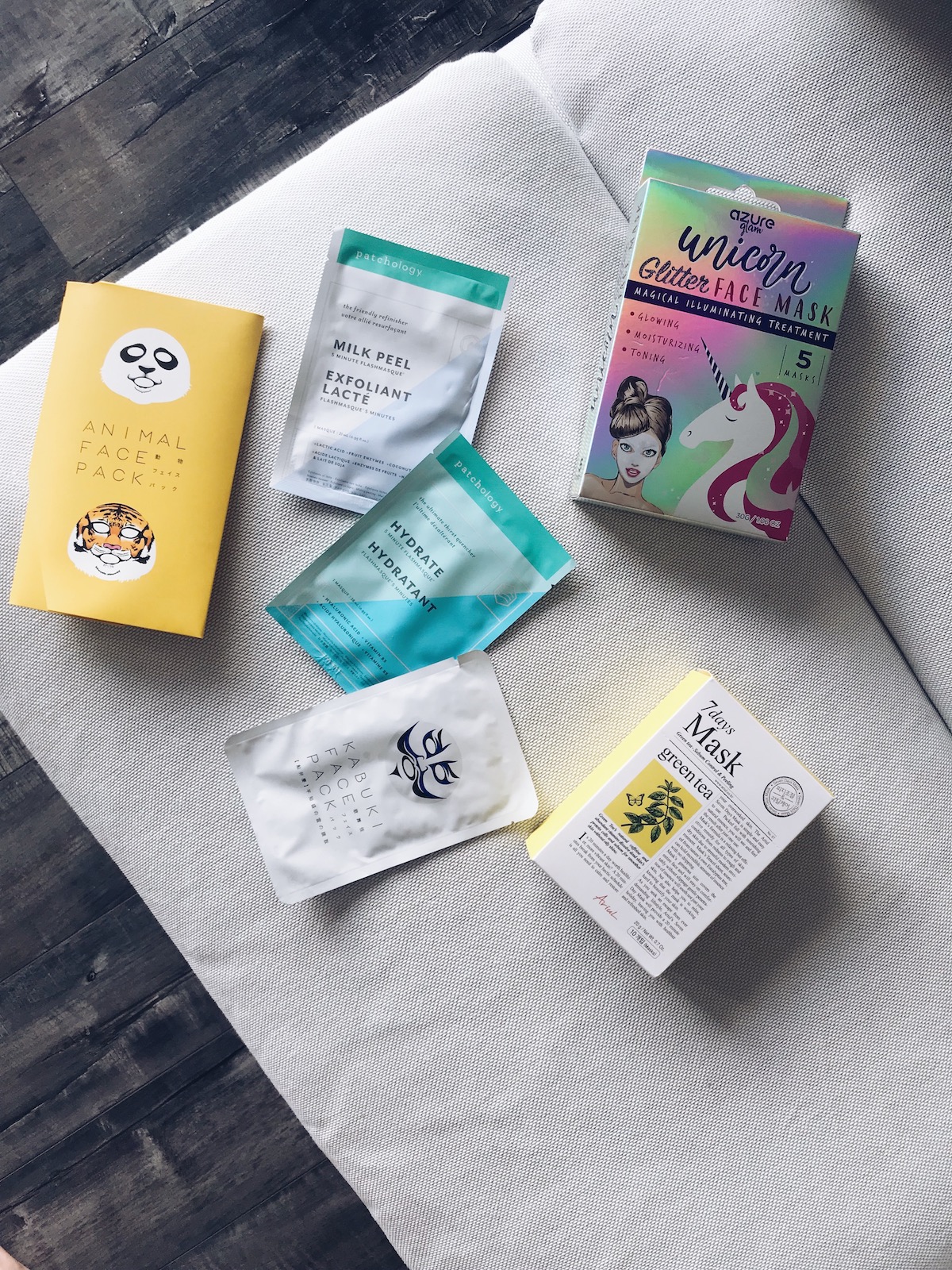 YEEEEEESSSSSS to sheet masks. Always. Forever. Yes please. I am obsessed with sheet masks, I use them multiple times a week and I have really seen a difference in my skin since I started this beauty ritual. As some of you might remember, one of my new years resolutions for 2019 (number 4 to be exact) was to invest more in myself. Being better at letting myself spend money on beauty, on treatments, on well, stuff I want. So in teaching to pamper myself I discovered how much I LOVE to do a quick sheet mask. It's fast, it's doable and you really feel a difference in your skin. SO because that is now a part of my life, I thought I would share my favorite ones (so far) with you.

I typically use a sheet mask in the morning while I am cooking breakfast or making the bed. My favorite brands right now are;

Patchology – I am starting with this one because quite frankly it's the best. Patchology can be bought both as singles but also in boxes (which I recommend, believe me you will use all). My two favorite masks are their MILK PEEL (shop here), it's packed with lactic acid and fruit enzymes plus coconut and soy milk. Second their HYDRATE (shop here), which contains hyaluronic acid and vitamin B5. Shop shop shop, you won't regret it.
Animal face pack – yes this is actually it's name. A bit weird, but that's no reason to miss out on the glory this facemask has to offer. I found these really funny face masks in Little Tokyo in Downtown LA and bought them as kind of a joke. They looked really fun and your face transforms into a panda or a tiger. You can also buy them looking like the traditional Kabuki faces. I started to read about them just because I didn't want to put anything bad on my skin, to my surprise the mask was actually packed with BG hyaluronan, hydrolysis collagen, water-soluble collagen and vitamin C so I decided to give them a try and now I LOVE them. I frequently visit that fun little beauty shop where they don't really speak english, to buy more masks, but you can find them here.
Azure – a brand that was new to me but I had to buy it because it said "unicorn glitter face mask" I was like – what? Then I read on the box and it said "Paraben free and hypoallergenic" so I thought – how bad can it be? I tried it on and first I wanna say, it was fun! I loved the way it looked and felt but also love it's ingredient list; Betaine, collagen, aloe and vitamin A, B, C and E. YES god damn it. It leaves the skin smooth and glowy! Find it here.
7 days by Ariul – a korean beauty brand. Apparently in Korea there is sold one 7 days mask every 8 seconds. That's CRAZY! But to be honest, I understand why. You can buy a box of 10 and the selection seems endless. Tea tree, lemon, aloe, avocado – anything you want! My favorite one right now is the green tea mask. It's lovely and smells so good. Full of antioxidants like green tea extract with natural caffeine and vitamins. What's not to love. Find it here.
X M
This content is sponsored