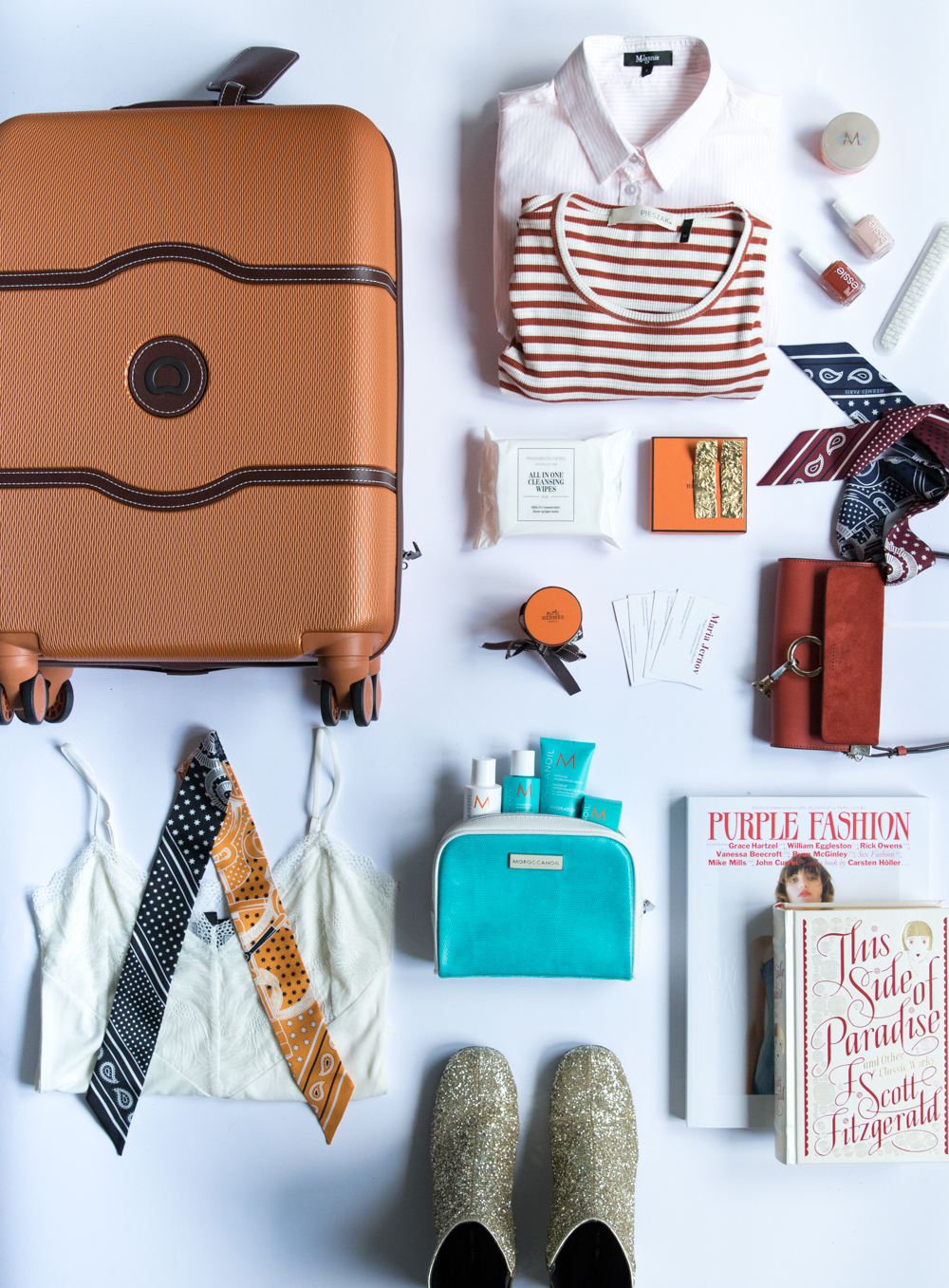 Location: Copenhagen
Photos taken with Canon 7D mark III
1. Cabin Bag / Delsey (shop here shop more colors here), 2. Shirt / Magasin du Nord (shop here), 3. Shirt / Pieszak (shop similar here), 4. Cleansing Wipes / Magasin du Nord (shop here), 5. Earrings / Martine Lindskjold (shop here), 6. Nail polish / Essie (shop here and here), 7. Nail file / Dior, 8. Body scrub / Moroccan Oil (shop full size here) 9. Bag / Chloé (shop here), 10. Bodystocking / Six Ames (shop here), 11. Twills / Hermés (shop in store), 12. Book / This side of Paradise (shop here), 13. Magazine / Purple fashion, 14. Shoes / Stine Goya (shop similar here) 15. Travel size hair products / Moroccan Oil (shop all hair products here),
I aften vil jeg være på vej igen, denne gang syd på. Til elskede Milano. Milano modeugen er en af mine absolut favoritter – der bliver afholdt nogle fantastiske shows, det er nemt at komme rundt og så er det lige en snes varmere end det er her. Hurra for det! Hermed et lille sneakpeak på de ting jeg pakker til at tage med. Jeg rejser denne gang med den her orange kuffert fra Delsey. Jeg synes den er OVER fed – glæder mig til at rejse med den (og dens makker). Det er så vigtigt for mig at have lækkert rejse gear, det er ellers super undervurderet men der er da få ting der kan måle sig med hvor tjekket man føler sig når man rejser med matchende baggage. Jeg skal rejse med Laura igen denne sæson og det er jeg så glad for, vi har altid de bedste ture! Jeg glæder mig til at dele mine streetstyle billeder med jer fra Milano! Stay tuned!
english: tonight I am on the go again, this time flying south. To beloved Milan. Milan fashionweek is one of my favorite fashion weeks – its great shows, easy to get around and then it's just a tad warmer than here. Hurraayy!! Here is a little sneakpeak of what I will be bringing. I am traveling with this orange beauty of a suitcase this time (and it's big brother), I absolutely love it! It's so important to me to have awesome travel gear, I love the feeling I get when my suitcases match – so put together! I am traveling with Laura again this season which I am so much looking forward to! She is indeed my partner in crime. I can't wait to show you my streetstyle footage from Milan! Stay tuned.
X M
This content is sponsored