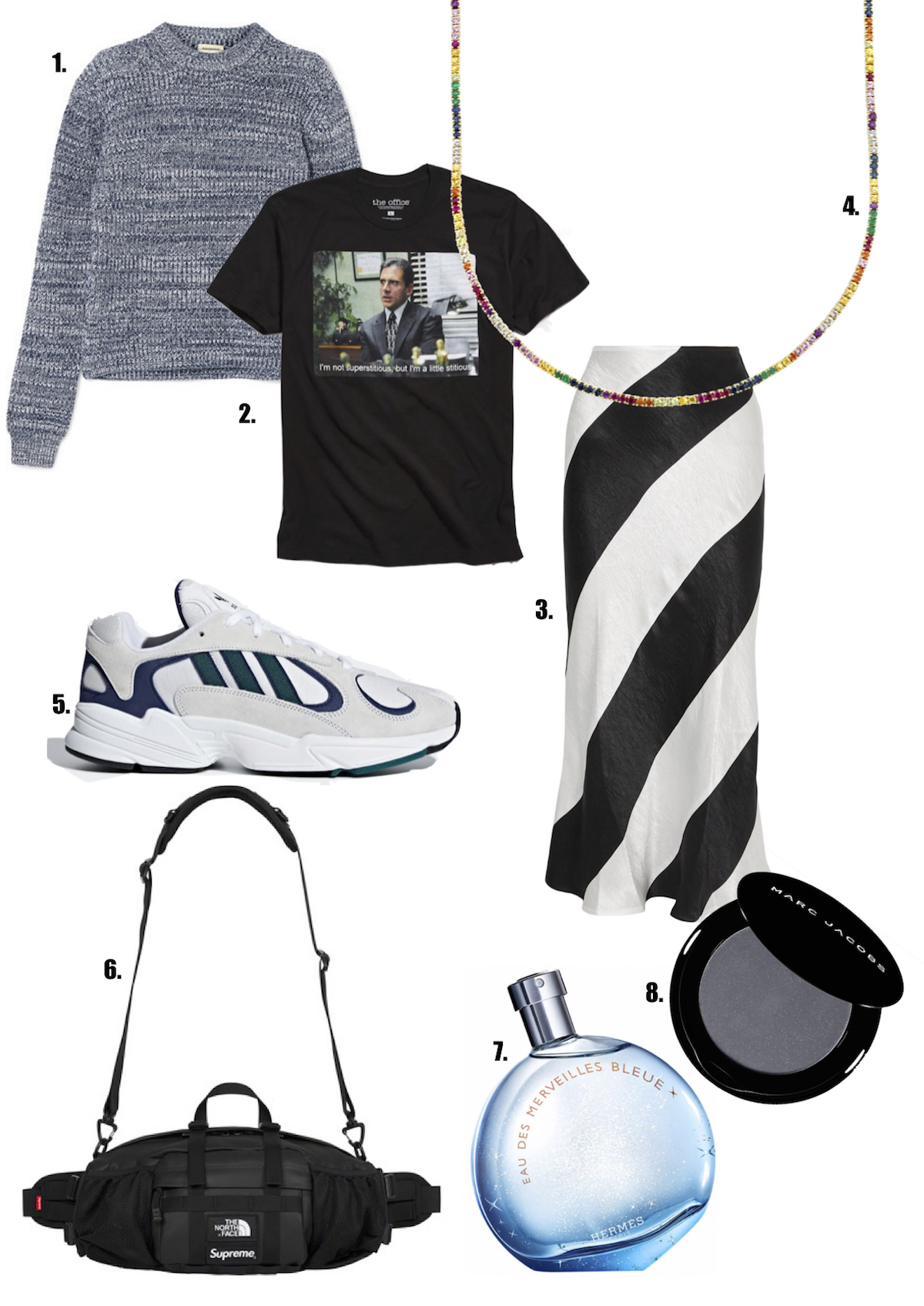 1. Knit / By Malene Birger (shop here), 2. T-shirt / Urban Outfitters (shop here), 3. Silk skirt / Georgia Alice (shop here), 4. Diamond tennis necklace / The last line (shop here), 5. Sneakers / Adidas Yung-1 (launch 1. nov shop here), 6. Bag / Supreme (shop here), 7. Perfume / Hermés (shop here), 8. O!Mega Gel-eyeshadow / Marc Jacobs beauty (shop here)
Oktober has already almost come to an end – and I still need to share my "I wanna wear". SO – here we go. A little less colorful option from me this month, but also kinda my everyday uniform. I am in love with these midi silk skirts combined with a t-shirt and some kind of knit thrown over the shoulder. It's pretty much my go to outfit next to denim shorts and white tee's. I wonder when I'll be too old for that outfit but we'll see. Also, how awesome is this Supreme/North face bag?! It's already sold out (surprise) and I am desperate for it. It's a combo of leather and nylon and oversized – I am dying!
The Yung-1's are amazing, I already have the white ones but these would make a nice add on to my sneaker collection. They are released on november first, don't forget to be on your toes if you want a pair! I'm still obsessed with the new O!MEGA gel-eyeshadows from Marc Jacobs, in case you didn't see my story on IG where I tested all the new colors, I can tell you that they are absolutely worth a try at Sephora! This dark sparkly one is perfect for all the upcoming parties in the winter time.
The string of goodness you see at the top of the collage is my newest favorite jewelry brand "The Last Line" – LA based jewelry company who specializes in beautiful creations in all the colors of the rainbow. My personal favorite (AND BIGGEST CHRISTMAS WISH) is this tennis necklace. I can't stop looking at it, it's so amazing. Happy shopping people!
X M