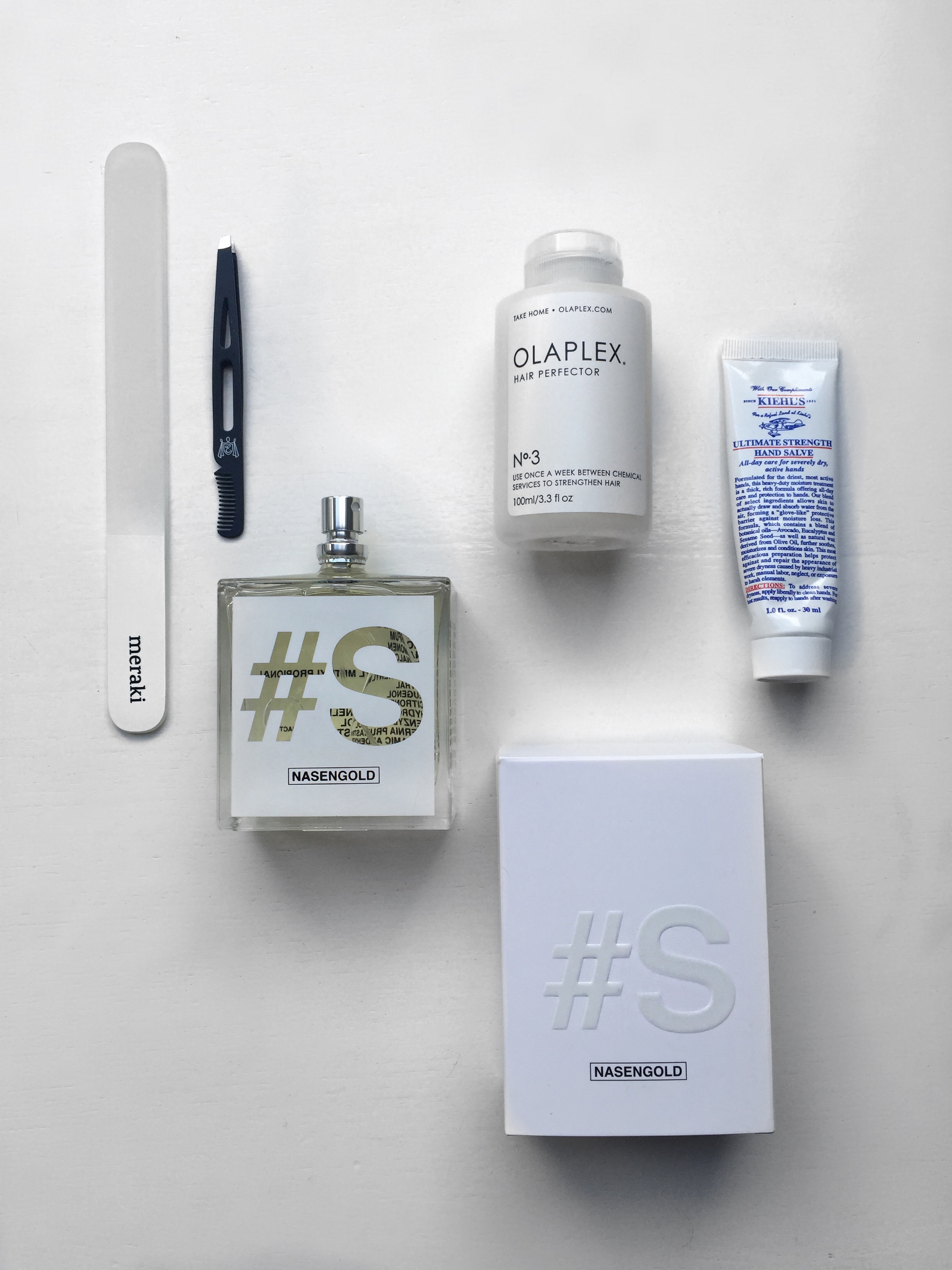 April er ved at nå sin ende og jeg har endnu engang samlet nogle beauty favoritter til jer! Jeg har i denne måned været til en masse pressedage (også på beauty!) hvilket betyder jeg har fået lov at teste en masse spændende som i kommer til at læse mere om her på bloggen. I denne måned har jeg opdaget nogle nye mærker som Nasengold og Meraki som har været rigtig spændende at lege med MEN det kan i læse mere om nedenfor! God fornøjelse.
english: April has come to an end and I have once again gathered some of my beauty favorites. This month I have been to a lot of exciting press events (also focused on beauty!) which means I have gotten my hands on a lot of exciting news that I am testing right now, things you will be reading about here on the blog soon enough. This month I have discovered new brands like Nasengold and Meraki which has been a pleasure to play around with BUT more on that below. Enjoy!
1. Meraki, Nail file 
I have never had a really good nail file, it never really occurred to me that I needed one as I have been riding horses my whole life and therefore have had horrible nails. But since I stopped and realized that nails are actually a pretty nice thing to "keep pretty" I went on the hunt for a nice nail file. It has taken me a while to find it, I have tried the foamy ones, the glitter ones, the metal ones – oh all of them. Then I found this glass nail file from Meraki, it's quite heavy but I really like that – it's easy to work with, files very nicely and it's so pretty (not that it should matter) but it does! AND then to the best part, it's super cheep! Find it here along with many other cool products that I have yet to try.
2. Eylure, Brow comb tweezers
Known for their expertise in false eyelashes, Eylure also offers many other products, many which I love and use daily! I have tested both their lashes and also their eyebrow products (which I am crazy about!) but I will do a review on those another day. This Brow comb / tweezer / wonder, is both handy, a multifunctional tool and one of the best tweezers I have tried – it's easy to handle with a firm grip on those little hairs. IF I had any brow hairs (yep I'm almost bold) I am sure that the comb is great too. You girls with actual eyebrows should try it and report back! Find it here.
3. Nasengold, #S
Uhh me and perfumes, we are not friends – like I said when I recommended the Hermés perfume a couple of months back "I am difficult when it comes to perfumes and I am not really a perfume girl." But, yet again, it happened – I found a perfume that I actually like, the #S from Nasengold. I am not gonna lie, I had never heard of Nasengold before sniffing this sporty yet elegant flacon, but I liked the scent a lot so I did some research. Nasengold is a german brand (hint the name) that wishes to be very recognizable on their very signature scents. #S is a scent with a hint of pink pepper, ginger and cardamom – it's fresh but not boring – it makes you interested of what is inside the bottle and like the Hermés perfume I wrote about it has it's very own personality. Maybe that's what I have been missing in all the other "cult perfumes" no personality. If you dare – find it here.
4. Olaplex, Hair Perfector
Olaplex hair perfector is actually step 3 in a salon treatment plan, it's originally used as the product you "take home" after a rough visit to the salon. I have never colored my hair nor have I tried the salon treatment to strengthen your hair but I had step 3 (the hair perfector) recommended by a fellow blogger because my hair gets extremely dry and dull. My hair is quite fine and curly so it's very open and vulnerable which makes it an easy target for bad hair days and sometimes many haircuts (never growing long and luscious). This super intense "after treatment product" can also be used as a intense conditioner and I have been very pleased with just doing this and not the whole treatment but maybe I oughta try it some day! Find the Olaplex step 3 here.
5. Kiehls, Ultimate strenght hand salve
Hand creme is for me associated with greasy hands and not being able to touch anything for 30 minutes which isn't fun at all. So like many other products I have spend some time testing my way through a couple (okay a hundred) to find the one for me. This hand lotion from Kiehls is nice and thick so you actually feel it helps you but it absorbs super quick and you can use your hands without setting prints everywhere instantly after applying it to your hands. I have also used it on my feet and it works soft, dreamy wonders there as well so now I have to buy a new one! It's the first time I have used a hand creme all the way up! Find it here.
X M