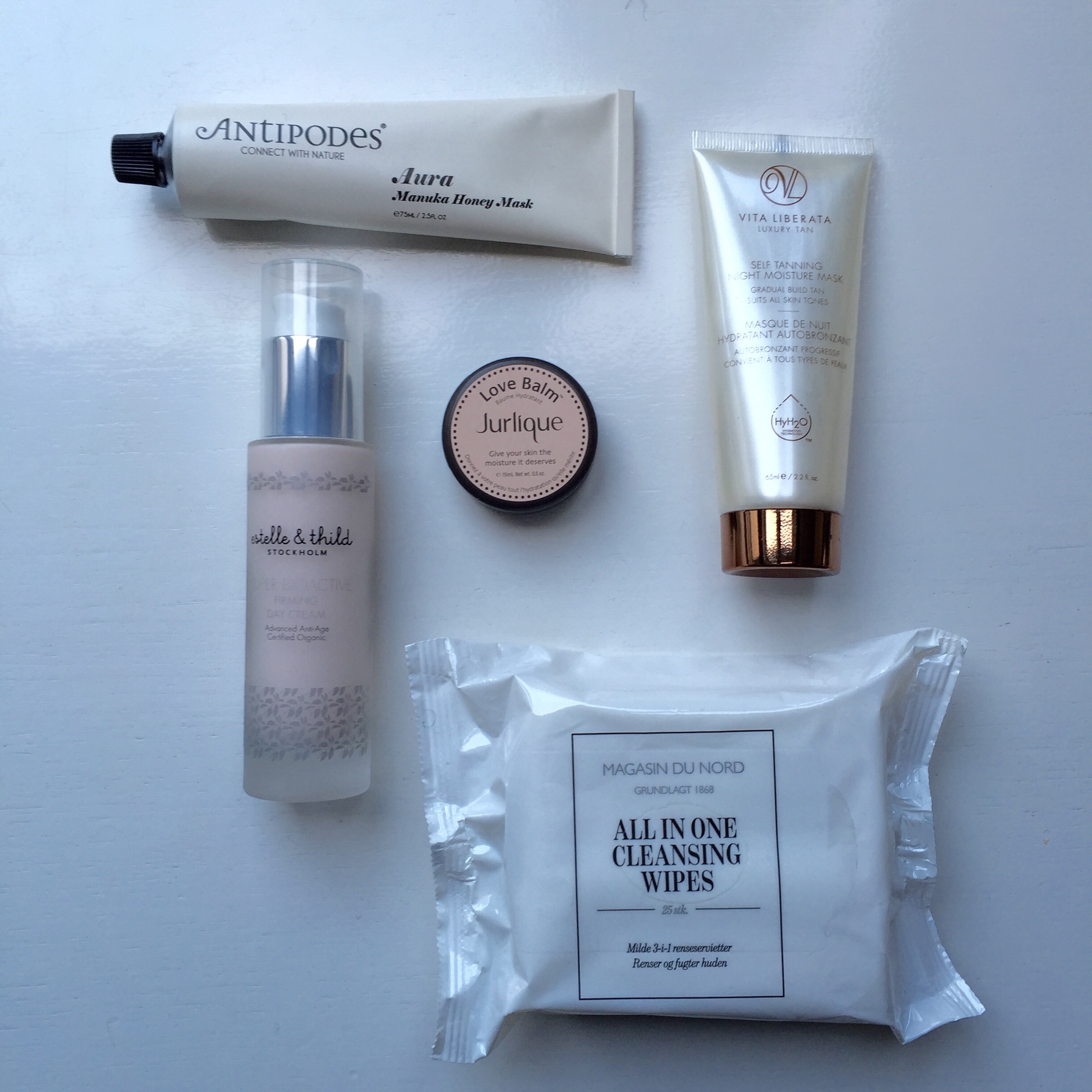 Endnu en måned er gået og i får hermed (som sædvanlig) mine 5 beauty favoritter. Min hud har været ret meget under pres under modeugen og det har jeg nydt godt af denne måned, disse er produkterne som jeg har brugt til at komme lidt i balance igen. Enjoy!
english: Another month has passed and it's time for another round of favorites. My skin has been under a lot of pressure during fashion week and that has shown this month so these are some of the products that I have used to calm everything down. Enjoy!
1. Antipodes, Manuka honey mask
I have always loved masks, it makes me feel good and I have a slight idea that the whole "leave for a while" does good for your skin. The brand Antipodes is organic and all the ingredients are from New Zealand, handpicked and well thought out – it leaves the skin soft and with a feeling of nurture. If I am really good to my skin, I will sleep with it on and wash it off in the morning. Find it here.
2. Vita Liberata, Night moisture mask
Being winter grey when you have red hair is in a league for it self, it can not compare to other colors of pale, it gets really bad. This night mask has saved my life, it makes me look good and therefore feel great when the sun isn't shining. A must! Find it here.
3. Magasin, All in one cleansing wipes
A true savior! Lets just be honest, I am lazy, you are lazy – we are all lazy and these are therefore a good thing to have laying around. I use these most when I travel but also on the "rare" occasion I don't feel like washing my face before bed time. They leave you feeling clean and fresh and they are super easy to pack up and take with you! Find them here.
4. Jurlique, Love balm
Great lip balms are hard to come by, there are too many on the market and it can be so confusing to find a good one. Jurlique makes these love balms that are basically good for anything, I use them on my lips, elbows – even in my belly button, it makes everything soft again! Find it here.
5. Estelle & Thild, Bio Active firming day cream
Eventhough I am only 22 years old, I like to be prepared – anti aging here I come, at least in some products. I am quite dry and sensitive so this organic super rich cream from Estelle & Thild has quickly become one of my favorites. Find it here.
X M