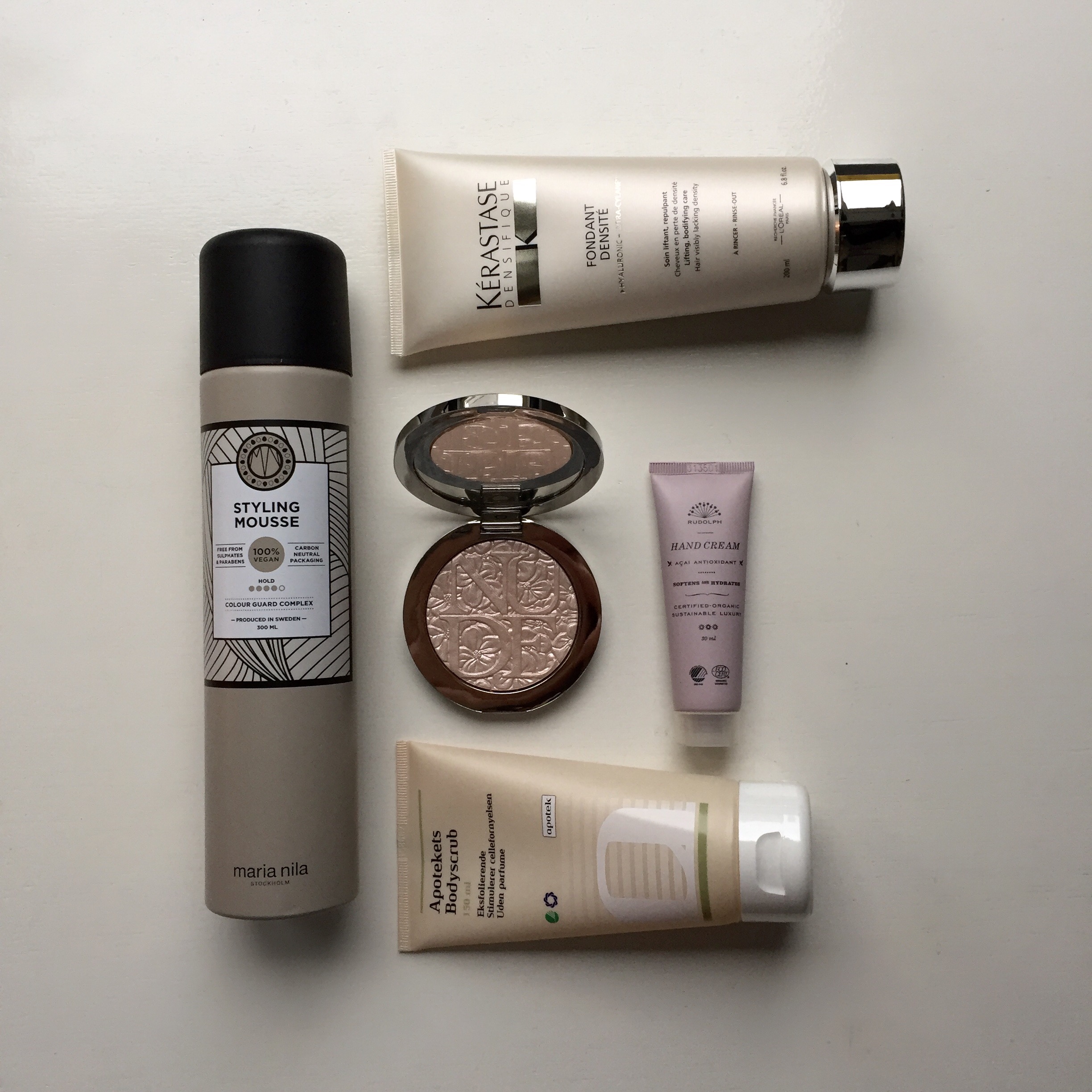 Som noget nyt vil jeg i 2016 dele mine top 5 skønhedsfavoritter med jer hver eneste måned. Grunden til dette er at jeg ofte får mange spørgsmål på instagram til min hud eller læbestifter, mit hår og mange andre ting så jeg vil glæde mig til at dele de nye ting jeg tester, opdager og prøver med jer. Mht. favoritterne så har jeg listet dem nummeret nedenunder, på engelsk selvfølgelig – så kan alle være med!
english: in 2016 I will be trying out something new, I will be sharing my beauty favorites with you every month, a top 5 to give you guys a glimpse of what I am testing and loving at the moment, month after month. The reason for this beauty development on the blog is that I have been getting more and more questions on instagram about my hair, skin, the lipstick I wear and many other things so I thought I would gather it all here for you! Products listed with descriptions below.
1. Maria Nila, Styling Mousse
Mousse is many things and to be frank there are a lot of really crappy ones out there. Either they are too watery or too stiff – this one on the other hand is absolutely amazing, when I decide to bring my curls out this mousse makes them soft and bouncy and keeps them together. A+!
2. Kérastase, Fondant Densite
Another hair item, Kérastase reminds me of going to get my hair done. It smells amazing and many of their products are too – this wipped, white mass makes my hair super soft and left with a feeling of thickness and volume. I have heard that there are many more amazing products in this specific series of Kérastase and I can't wait to try more.
3. Dior, Nude air illuminating powder
I am in love with highlighter products, but seriously which girl isn't? But like all other products, the good ones, no the amazing ones are hard to find. This dior, besides being a sight for sore eyes, is super elegant in it's glow with pink undertones and delivers just the right amount of shine.
4. Apotekts Bodyscrub
No perfume, super sensitive beads and value for money. I love pharmacy brands – they just work you know?
5. Rudolph Care, Acai Antioxidant handcreme
This is my goodnight hand creme and the reason for that is that it is quite oily so not good for day use BUT that said it leaves your hands flawless (when you wake up) nighty night dry winter paws!
X M