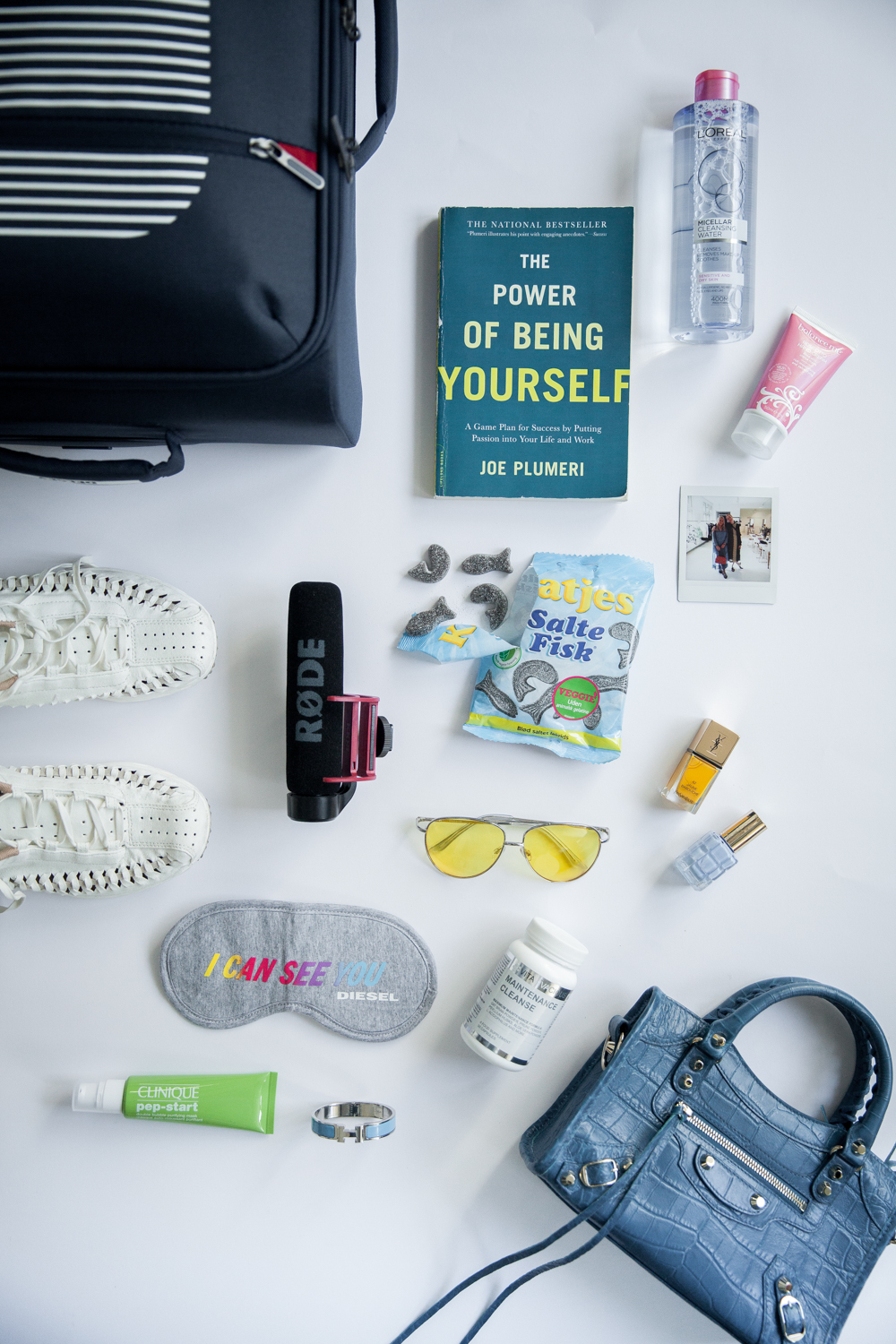 Luggage / Delsey (shop here), Book / Joe Plumeri (shop here), Micellar water / L'oréal Paris (shop here), Handcreme / Balance me (shop here), Sneakers / Nike (shop here), Microphone / Røde (shop here), Salty fish / Katjes, Nailpolish / Ysl (shop here), Nailpolish / L'oréal Paris, Glasses / Asos (shop here), Eyemask / Diesel, Maintenance cleanse / Vitaviva (shop here), Mask / Clinique, Bracelet / Hérmes (shop here), Bag / Balenciaga
Er du gal det er en underlig titel at skrive. Jeg flytter faktisk til L.A – det er jo så vildt! I morgen, d. 5 september flytter jeg til den anden side af jorden og jeg kommer først hjem til jul. Jeg har ikke sagt meget om denne tur. Jeg tror ikke helt jeg har troet det selv. Men, here I am, nu er det tid. Jeg har fået en fantastisk mulighed for at arbejde med nogle spændende brands "over there" så jeg og en af mine absolut bedste veninder, Mia, rejser afsted. L.A giver mulighed for at komme lidt tættere på mine amerikanske læsere og skabe noget helt anderledes content end normalt. Det er ikke hver dag man får sådan en mulighed. Mia og jeg kommer til at få den bedste tid, jeg ved det bare, hun er solid gold! I morgen boarder jeg endnu engang et af de der über seje pink WOW fly, de har stadig de bedste priser! Sebastian og jeg fløj med dem til L.A i april og havde sådan en fed tur at jeg synes vi skulle flyve med dem igen! Læs mere om WOW her. 3 måneder er lang tid at være væk så jeg kommer selvfølgelig til at pakke en hel hel hel masse! Jeg vil ikke gennemgå det hele men dog lige gå over nogle af de ting jeg bestemt ikke kan leve uden. Først, ingen Maria uden behagelige sneakers, min micellar water fra L'oréal (for den findes ikke bedre) og selvfølgelig salte fisk! Vi snakkes venner!
english: Wow, that was such a weird title to write. I am actually moving to L.A – that's so crazy! Tomorrow, the 5th of September I am moving to the other side of the earth and I won't be home until Christmas. I have been keeping this from all of you for quite a while. I suppose I havn't really believed it myself. But here I am telling you. It's huge. I have gotten an amazing opportunity to work with some great brands abroad, so me and one of my absolute best friends, Mia, is going for the rest of 2017. This trip also gives me a chance to connect with my american readers and create new and exciting content, which I am really looking forward to. I can't wait. Me and Mia are going to have the best time, I just know it – she is pure gold. Tomorrow I will once again be boarding one of those awesome pink WOW airplanes that I love, they still have the best prices! Sebastian and I flew with them to L.A in april and I loved the trip so much I wanted to fly with them again! Read more about WOW air here. 3 months is a long time to be away so of course I will be packing my ass off today – here is a little snapshot of what I will be bringing. I won't name it all but a few things I can't live without is comfy sneakers, my micellar water from L'oréal (it's too good!) and of course salty fish candy. Talk soon friends!
X M
This content is sponsored