TOP 5 BEAUTY FAVORITES SEPTEMBER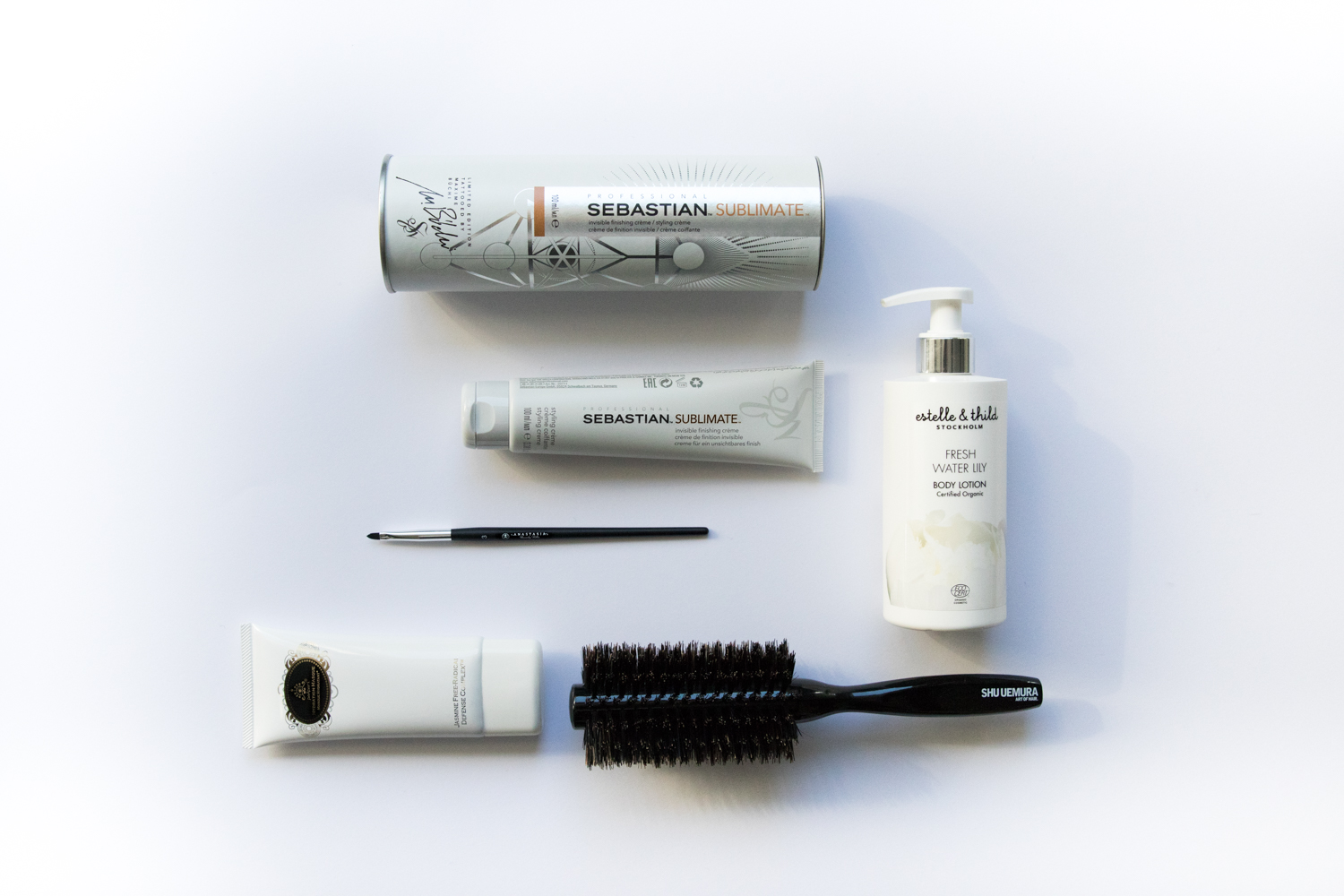 Location: Copenhagen
Photos taken with Canon 7D mark II
Disse produkter er nogen jeg har brugt under modeugen, de har været lige ved hånden hele tiden og nu kan jeg slet ikke ligge dem fra mig. En god maske til belastet hud, en lækker børste til føntørring, en makeup børste til (næsten) det hele, den bedste styling creme og noget der dufter vidunderligt. Hvad skal man mere bruge? Find mine September favoritter nedenfor.
english: These products are some I have used during fashionweek and that I have grown to love. A good mask for congested skin, a great blow dry brush, a makeup brush for (almost) everything, the best styling creme and something that smells amazing. What more does one need? Check out my September favorites below.
1. Sebastian Professional, Invisible finishing crème
(shop here)
I love a good styling creme, I think it can really "make" a look. Shiny and weightless, anti frizz and easy to work with. I love to use this product when rocking a high ponytail or defined curls. Sebastian professional has launched this collection in collaboration with the iconic tattoo artist Maxime Büchi who is the man behind the beautiful packaging in the photo. Maxime Büchi has worked with iconic brands like Alexander McQueen and Rick Owens, according to Vogue he is one of the worlds most influential tattoo artists. I love when two different worlds meet like this, you both get the best Sebastian products and beautiful design by an amazing artist. Big high five from me!
2. Anastasia Beverlyhills, Brush #3
(shop here)
This little fella is my newest best friend, I use it for everything. First I was like, "this is too small to use for anything?" But now I use it for my eyeliner, eyeshadow in the crease and to clean up my brow liner with concealer. I absolutely love it.
3. Pañpuri, Hydration masque 
(shop here)
Hypo-allergenic, dermatologically tested and 100% pure plant actives with essential oils. It smells like a spa dream and the packaging is to die for. It's fragrance free, basically pure good and it gives a healthy glow to the skin, perfect!
4. Shu Uemura, Round brush
(shop here)
I have started blowdrying my hair a lot which have given me the chance to explore different brushes. I love a good flat brush but it really gives a whole other look when I use a round brush. This one from Shu Uemura has a handy grip and is a good size. Sometimes the brushes become too big, like it wasn't hard enough to blow dry ones own hair already?!
5. Estelle & Thild, Body lotion "fresh water lily"
(shop here)
On the days where I don't feel like wearing parfume I always just put a little bit of this amazing bodylotion on my neck, behind my ears and on my wrists. It smells amazing and people always ask me what I am wearing. It's just such a lovely scent.
X M
This content is sponsored